Key Account Manager / キーアカウントマネジャー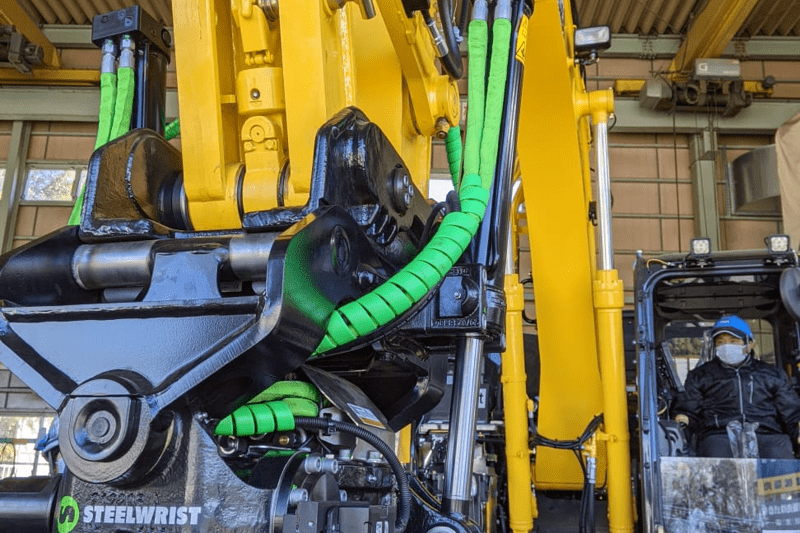 Do you believe in making a difference for customers and industry and strive for being part of a high growth technology company, then you should read this!
Steelwrist deliver world class products for enhancing excavator efficiency. Most notably tiltrotators with advanced control systems, quick couplers, and work tool. Productivity gain from usage of Steelwrist products range from 20 to 40% depending on type of work application.
The international tiltrotator market is expanding rapidly and we are seeing an increased demand also in the Japanese market thanks to the information communication technology modernization.
Steelwrist is a Swedish company and today the fastest growing manufacturing company in the world that provide advanced technology for improving excavator efficiency. The products are sold both to machine OEM's and to equipment dealers as aftermarket products.
Steelwrist is now looking for a Key Account Manager that will work to continuing developing and growing the sales in the Japanese market.
Key responsibilities:
As Key Account Manager you will play a pivotal role for Steelwrist Japan market sales. You will report to country manager of Japan and work in close collaboration with aftermarket team in order to create high customer satisfaction and achieve sales growth.
Your main task is to initiate new and handle existing customers to build the business. The work involves extensive travel, including occasional travel to Sweden.
Qualifications:
Proven experience from sales and customer development in the construction industry or similar
Accustomed to work independently towards defined goals
Solid technical understanding and interest in "technology" products
Prestige less and solution-oriented approach
Good social skills
Remote work environment
Personality:
Steelwrist core values are simplicity, responsiveness and speed and it is important that you fit into the culture. We are a result-oriented organization with a strong spirit where everyone strives for growth. We are hard working, but we also like to have fun.
To succeed in the role, we believe that you are a responsive and solution-oriented person who quickly understand our customers' needs and help them to find solutions. Entrepreneurial spirit with excellent social networking capabilities. You should have technical knowledge and interest to be able to do a great job.
Other:
Full-time employment in our Steelwrist Japan K.K. organization. The location can be flexible. You will learn and get training in leading technology in the excavator technology of future. 
We offer you a stimulating job in an exciting and successful global company!
高成長中テクノロジー企業の一員になって、ユーザーや業界に変化をもたらしたいと思いませんか?それならこれをぜひお読みください。
スチールリストは、掘削機の生産性を高める世界トップクラスの製品を製造・販売しています。最もニーズが高いのは、高性能制御システム、クイックカプラー、および作業ツールを備えたチルトロテータです。スチールリスト製品を使用することで、作業アプリケーションのタイプに応じて20〜40%の生産性が向上すると計算されています。
国際チルトロテータ市場は急速に拡大しており、日本市場でも需要が一段と高まっています。
スチールリストは掘削機の効率化を目的とした高度技術を提供する、今日世界で最も急成長中のスウェーデンの企業です。製品は機械OEM、機器ディーラーの両方に販売されます。
現在スチールリストでは、日本市場での成長・発展を促進するため、キーアカウントマネジャーを探しています。
主な責務:
キーアカウントマネジャーは、スチールリストジャパンの市場販売において極めて重要な役割を果たします。日本のカントリーマネジャーに直属し、アフターマーケットチームと緊密に連携して、質の高い顧客サービスを提供し売上促進に貢献します。
あなたの主な仕事は、ビジネス構築のため新規顧客の開拓、既存の顧客管理です。業務にはスウェーデンへの時折の出張を含む広範囲の旅行が含まれます。
資格:
建設業会などでの販売および顧客開拓の豊富な経験
定義された目標に向けて独立して仕事することに慣れている
テクノロジー製品に対する確かな技術的理解と関心
プレステージレスで問題解決志向
優れた社会的スキル
リモートワーク環境 
性格:
スチールリストのコアバリューは、シンプル性、素早い反応、スピード感であり、この文化に溶け込むことが重要です。私たちは、誰もが成長に向けて努力する強い意志を持った結果志向の組織です。また働くときは大いに働き、楽しむことも大好きです。
この仕事で成功するためには、顧客のニーズを迅速に理解し、素早く解答を見つけ問題解決に繋げられる能力が欠かせません。ソーシャルネットワークを使いこなし、起業家精神に長け、仕事を成し遂げるために技術的な知識と興味を持っていることも重要です。
その他:
Steelwrist Japan 株式会社への正社員雇用。勤務場所は柔軟に対応します。掘削機技術の最先端技術を学ぶトレーニングを提供します。グローバル企業スチールリストで私たちと一緒に刺激的な仕事をしましょう!
スチールリスト社・および製品の詳細については以下のホームページをご覧ください。
Department

Locations

Japan
Workplace and culture
We work hard and we want to have fun. The importance of a fast "learning speed" is hard coded into the company genes.
Employee surveys show we have an open discussion climate, work towards defined goals and co-workers feel they can develop with the company.
We dare to ask the stupid questions. We discuss before we decide and we argue about "what is right" and not "who is right".
Once we decide we execute as a team – diversity in council and unity in command. Thats the kind of culture you will live in if you join the Steelwrist team.
About Steelwrist
Steelwrist AB's business idéa is to develop, manufacture and sell tiltrotators, quick couplers, accessories and attachments for excavators and backhoe loaders.
Steelwrist AB's goal is to be the "best in the world to develop, manufacture and sell equipment that increases efficiency of excavators".
Steelwrist is today the fastest growing manufacturer of tiltrotators and quick couplers in the world. A determined focus on robust and modern products, combined with fast service has been appreciated by an increasing number of customers.
Already working at Steelwrist?
Let's recruit together and find your next colleague.